Photo Glass Information - NEW!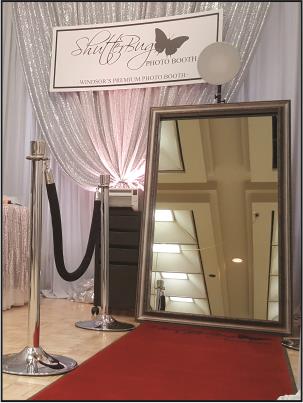 ShutterBug introduces Photo Glass - the latest in technology and event entertainment. Photo Glass looks like a mirror, but behind it is a lot of sophisticated technology. The glass is actually a touchscreen that interacts with your guests. Inside Photo Glass, lies a high powered DSLR camera waiting to capture the best moments from your event. Different from the Photo Booth, Photo Glass captures a lengthwise portrait shot. The high quality dye sublimation printer prints the pictures out seconds after the session is complete.
Photo Glass will give your guests the red carpet treatment by providing hours of entertainment and producing fun and memorable photos. Your guests are sure to cherish these memories for years to come.
All of the pictures from the event are always posted to our Event Gallery hours after the event is complete. Guests are able to download and share their pictures, giving them the power to share them on any social media platform.
Photo glass is available in our Windsor and Ottawa markets today!
Photo Booth Information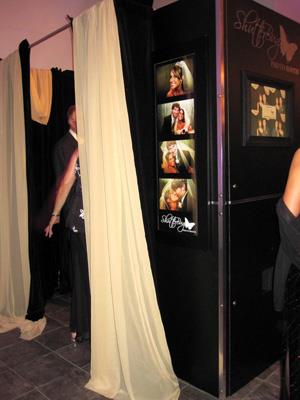 ShutterBug Photo Booth is a spacious, mobile booth that takes high quality digital pictures that are printed on the spot. Our photo booth resembles the old fashion universal booths that we remember as kids, but is much sleeker and more attractive in appearance. It is portable enough to take almost anywhere, and can be set up indoors or outdoors, as long as there is an adequate power supply and a level surface.
ShutterBug Photo Booth is easy for guests to use, but under the hood there is a lot of sophisticated technology going on. All of our equipment is of the highest quality. The pictures are taken at a very high resolution and although printed small and neat, the stored images could be blown up to poster size. Only high-grade premium photo paper is used to create beautiful, long lasting photos.
We offer many different picture formats to choose from (traditional strips or grids), five of which allow for a personalized logo or photo graphics. There is also the choice of colour or black & white images. This creates a perfectly unique memento guests will never throw away!
ShutterBug fits in with all functions and is perfect for:
Weddings
Parties
Celebrations
School Events
Bar/Bat Mitzvahs
Corporate Events
Children's Festivities